Fast & Accurate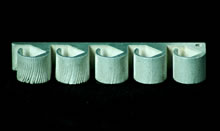 West Coast Waterjet utilizes the latest waterjet cutting equipment. Through a partnership with Flow International, the world's leading manufacturer of waterjet equipment, we operate as a testing and demo site for their state-of-the-art Mach 4C waterjet systems. These machines provide exceptionally fast, exceptionally accurate waterjet cutting for any material.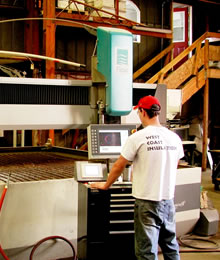 Our facility houses one Mach 3-IFB 50-horsepower, 60,000 PSI dual head machine and a customized Mach 4C, 200-horsepower, 94,000 PSI ultra high pressure water jet system with dual dynamic heads on a 4 x 3 meter table, increasing the cutting and production speeds 4x faster than the standard Mach 3 machine. On one recent project, we were able to cut a 2 3/4" inconel plate. The combination of horse power and  pressure, allows us to provide high precision water jet cutting for better quality parts and faster turnarounds. The client also shared with us that we saved them money five different ways, including tighter nesting, resulting in reduced material costs and the reduction and elimination of parts rejects.
Our custom Mach 4C ultra high pressure water jet system features dynamic cutting heads specially designed to reduce the unwanted tapering that is produced by waterjet cutting. Reduced taper allows many parts to go directly to fabrication or assembly, requiring no secondary machining, resulting in lower processing costs. West Coast Waterjet's high-performance Mach 4C system give us the production capacity of four standard waterjet cutting machines, also resulting in faster turnarounds.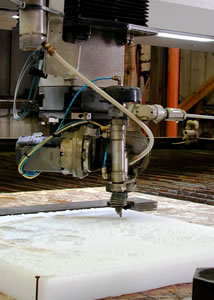 Find out why West Coast Waterjet's company slogan is "Quality Parts, First Time!" Request a quote on precision water jet cutting for your project, or contact West Coast Waterjet for more information.