Fast & Accurate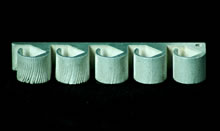 West Coast Waterjet utilizes the latest waterjet cutting equipment. Our facility currently operates a Flow International MACH 4C dual head waterjet, and a Omax OptiMAX 60X 5-axis waterjet. WCW utilizes industry leading software, updated regularly, to ensure that programming, parts nesting, and cutting specifications are dialed in.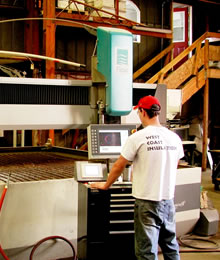 Our Mach 4C, 200-horsepower, 94,000 PSI ultra high pressure water jet system with dual dynamic heads on a 4 x 3 meter table, increasing the cutting and production speeds 4x faster than the standard waterjet machine. On one recent project, we were able to cut a 2 3/4" inconel plate. The combination of horse power and  pressure, allows us to provide high precision water jet cutting for better quality parts and faster turnarounds. The client also shared with us that we saved them money five different ways, including tighter nesting, resulting in reduced material costs and the reduction and elimination of parts rejects.
The latest additional to our shop is an Omax OptiMAX 60X with 5-axis cutting capabilities. The Omax OptiMAX utilizes a direct drive VFD controlled motor to provide excellent water pressure control allowing low pressure piercing on delicate materials. The 5-axis cutting head allows for taper control/compensation, but also true 5-axis cutting producing bevels, chamfers, countersinks, etc. Coming late Q4 2023, we will be adding a rotary attachment which will allow for cutting square and standard tube.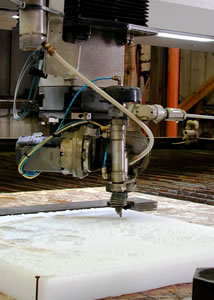 Find out why West Coast Waterjet's company slogan is "Quality Parts, First Time!" Request a quote on precision water jet cutting for your project, or contact West Coast Waterjet for more information.