Our Waterjet Capabilities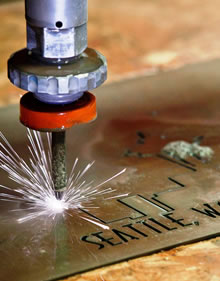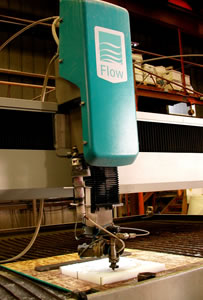 When it comes to cutting metal with water, West Coast Waterjet has some of the world's most advanced capabilities. Our facility is a demo shop and beta site for Flow International, the leading manufacturer of water jet equipment, giving us access to state-of-the-art water jet technology.
West Coast Waterjet can produce parts as large as 3×4 meters, and can cut a variety of materials with unparalleled precision and repeatability. We can deliver finished, ready-to-use parts, or hog out parts for easier additional machining. Our nesting software optimizes material utilization.
Our water jet cutting service is:
Fast & Accurate — Our two high-performance Flow water jet systems give us the capacity of five standard machines, and feature dual dynamic cutting heads for precise cutting control. We can deliver the parts you need fast and more accurately.
ISO Quality — West Coast Waterjet is ISO 9001:2008 certified for quality control.
Find out why West Coast Waterjet's company slogan is "Quality Parts, First Time!" Request a quote today for precision water jet cutting service, or contact us for more information.